Ideological Mechanisms of Russian Federation President V. Putin Narrative in Lithuanian Online Media
Keywords:
functions of language, semantic processes, narrative, hybrid war, new media, online media, ideological implications
Abstract
This article discusses semantic language processes that can influence the perception and appreciation of one or another phenomenon, process, personality. This work examines the problem of language and thinking relationship, the role of language in shaping the worldview, altered and differently organized language functions in the 21st century and possible use of language semantic processes in hybrid. The question is whether it is possible to recognize an unconscious and/or semi–conscious phenomenon of language comprehension when the semantic mechanisms of word meanings and associations create ideological implications that can influence the evaluation of phenomenon, personality, and event. The language narrative and its correction mechanisms are discussed in the context of ideological implications. The mass media have been chosen to reveal the semantic mechanisms of ideological implications as it is the most critical space in the public language. The case study has been performed in this work. The role of lexis and semantics in the creation of narratives about Vladimir Putin – the president of Russia, an important geopolitical neighbor of Lithuania was studied using data from large Lithuanian new portals: www.delfi.lt, www.lrytas.lt, www.15min.lt.
Article Metrics Graph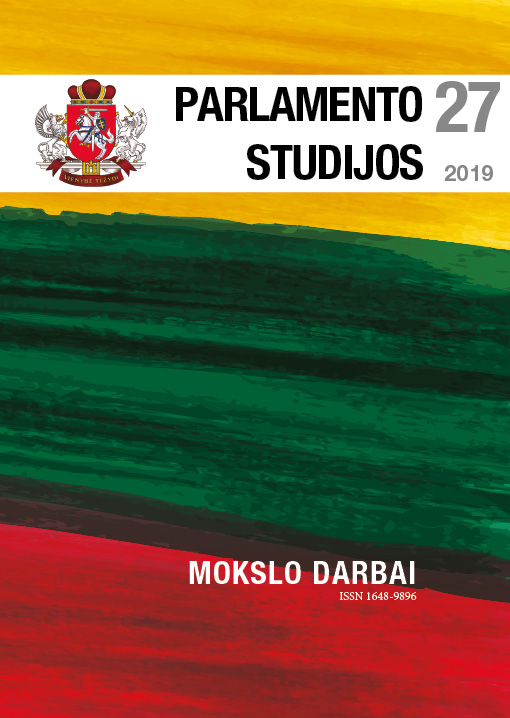 Downloads
How to Cite
Zabarskaitė, J. (2020). Ideological Mechanisms of Russian Federation President V. Putin Narrative in Lithuanian Online Media. Parliamentary Studies, (27), 76–118. https://doi.org/10.51740/ps.vi27.11