Constitution of May 3, 1791 and Lithuanian Constitutional Tradition
Keywords:
Constitution, Seimas, Lithuania, Commonwealth of Two Nation, 1791
Abstract
This article is devoted to analyze the constitution of May 3, 1791 – from legal point of view trying to find any touch points with Lithuanian statehood and constitutional history. That kind of survey is needed, because previous studies of this document in Lithuania have been exclusively done by historians but not legal (constitutional) scientists. The author firstly analyzes the question, whether this document might be considered as constitution through theory of modern constitutionalism, then the references to "Lithuania" in the text of the constitution are analyzed in order to reveal their meaning and lastly, the new concept of "constituent 1791 Constitution of Commonwealth of Two Nations" is offered, which through inclusion in it, especially, Mutual Engagement of Two Nations (pol. Zaręczenie Wzajemne Obojga Narodów) adopted in October 20, 1791 – might be considered as a part of Lithuanian constitutional history. Therefore, the author suggests that this constituent 1791 Constitution might be consisted of 5 constitutional acts: 1) May 3 constitution, 2) Seimas Declaration of May 5, 3) April 21, 1791 Free royal cities act (pol. Miasta Nasze Królewskie Wolne w Państwach Rzeczypospolitej), 4) March 24, 1791 Act on local legislative councils' (pol. Prawo o Sejmikach) and 5) Mutual Engagement of Two Nations (pol. Zaręczenie Wzajemne Obojga Narodów). The article ends with some conclusions for contemporary Lithuanian constitutional legal science.
Article Metrics Graph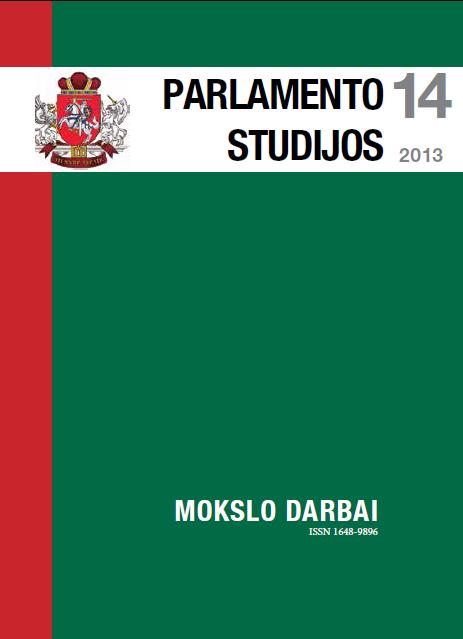 Downloads
How to Cite
Vaičaitis, V. (2013). Constitution of May 3, 1791 and Lithuanian Constitutional Tradition. Parliamentary Studies, (14), 66–90. https://doi.org/10.51740/ps.vi14.250