The Purpose of Political Dialogues by Political Figures in Critical Discourse
Keywords:
critical discourse, distorted dialogue, persuasion, manipulation, ideologines
Abstract
The publication examines the purposes for which a distorted dialogue (here-in-after – dialogue) is employed in the political figures' rhetoric and the means by which it is implemented. The research findings show that the dialogue is used primarily for the changing of public opinion and the glorification or demoralisation of political figures. In the rhetoric employed by V. Uspaskich the dialogue is used for introducing oneself to the people and opponents, the politician in the meantime consolidating himself in the role of a subject of power. Positive self-depiction is carried out with the help of manipulation which creates conditions for the consolidation of an ideal communication situation: one speaks – everybody listens. In the rhetoric used by economist A. Maldeikienė, the dialogue is invited for the voicing of criticism of V. Uspaskich and the Lithuanian political system. In the discourse, A. Maldeikienė plays the role of a public champion or victim. By manipulating these roles the economist hopes to influence the opinion and mind of the people. Her rhetoric cannot do without ideologies (nationalist, political correctness etc.). They demonstrate not only dissatisfaction with V. Uspaskich and his political line but also distrust in people. Rhetoric preferred by journalist A. Račas focuses on direct and indirect xenophobia, for this particular purpose the dialogue is used. In the discourse, A. Račas identifies himself with his colleagues (group), consolidating himself on this basis in the role of an expert in the area of political developments. A. Račas' discourse is based upon sheer persuasion, ideologies being replaced by goal negations.
Article Metrics Graph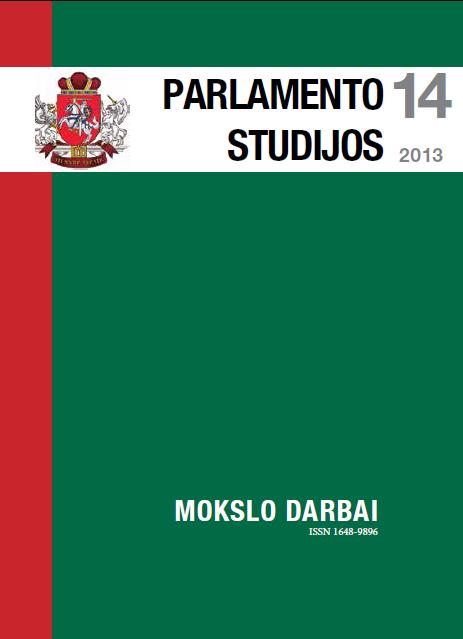 Downloads
How to Cite
Nabažaitė, E. (2013). The Purpose of Political Dialogues by Political Figures in Critical Discourse. Parliamentary Studies, (14), 155–174. https://doi.org/10.51740/ps.vi14.254