Images of the Parliament of the Republic of Lithuania in Inaugural Speeches of the Presidents of the Republic of Lithuania
Keywords:
presidential rhetoric, communication, inauguration speech, parliament, responsibility.
Abstract
Rhetoric of Presidents' inaugural speeches perhaps provides the most information about the newly elected or re-elected president, providing his priorities, attitudes, views on political, economic and social situation in the country. Inaugural speech is the first public presentation of newly elected president, by which the relations with state institutions are set. The aim of this article is to identify and discuss the rhetoric of presidents' inaugural speeches, by stressing the relation between president's institution and the parliament of Lithuania: stressing functions, theirs intersections, exclusions and responsibilities.
The article raises the question of whether the Inaugural speech is the presentation of the newly elected president by presenting his/her ideas about the main tendencies in forming state's domestic and foreign strategies, discussion of the main problems that should be solved, about the management of governmental institutions, or inaugural speech is just another opportunity to extend participation in the political campaign, and welcomed the outcome / results of the presidential elections and form desirably image of the President.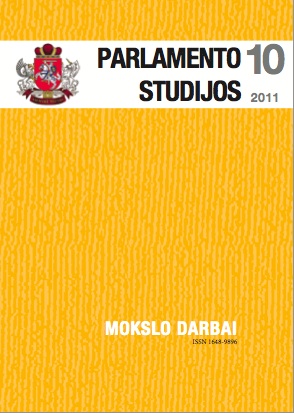 Downloads
How to Cite
Matkevičienė, R. (2011). Images of the Parliament of the Republic of Lithuania in Inaugural Speeches of the Presidents of the Republic of Lithuania. Parliamentary Studies, (10), 80–98. https://doi.org/10.51740/ps.vi10.304