Art for Civil Resistance in Lithuania. Using Film in a History Class
Keywords:
civil resistance, history class, historical film, Lithuania
Abstract
When Russia invaded Ukraine in 2022, the civic education, including civil resistance, became extremely relevant in Lithuanian schools. Research shows that civic education in Lithuanian schools has been insufficient. In most cases, it has been presented as a fragmented combination of history, political science, ethics and other areas. Schoolteachers do not pay much attention to this type of education, besides, they are lacking attractive teaching tools. Keeping all that in mind, the theorists and practitioners of didactics have been looking for twenty-first-century forms of communicating these topics, the screening of historical films in the class being one of them. The article discusses the range of topics of civil resistance in the curricula of history and theoretically and practically justifies the potential of historical films in covering the topic of civil resistance in the history class. The empirical research is a questionnaire presented to Vilnius Gymnasium students who participated in a history class where the historical feature film Emilija iš Laisvės alėjos [Emilija from Freedom Avenue] was shown and analyzed. The analysis proves that the screening and discussion of the historical film during the civil resistance class proved to be successful. It was useful in presenting a vivid, concrete and even shocking picture of civil resistance during the Soviet era, feeling empathy with the survivors of that time, and bringing the topic of civil resistance up to date. On the other hand, the students' answers have indicated that any resistance to the existing order, prevailing tendencies and values is considered civil. Such ambiguous perception is probably due to the fact that history curricula do not cover civil resistance as a separate subject. This suggests the need to conceptualize and bringing up to date civil resistance as an independent phenomenon of the past and the present world in the didactics of history and civic education.
Article Metrics Graph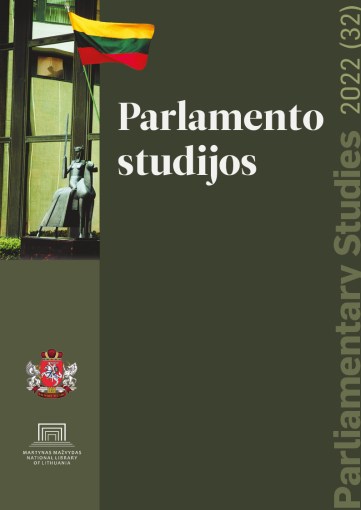 Downloads
How to Cite
Šermukšnytė, R., Sabonaitytė, J., & Vinciūnas, D. (2022). Art for Civil Resistance in Lithuania. Using Film in a History Class. Parliamentary Studies, (32), 69–91. https://doi.org/10.51740/PS.32.5
License
This work is licensed under a Creative Commons Attribution 4.0 International License.