Būsimieji Lietuvos Nepriklau­somybės Akto signatarai Didžiajame Vilniaus Seime
Keywords:
1905, Great Seimas of Vilnius, Council of Lithuania, autonomy, independence, signatories, Jonas Basanavičius, Antanas Smetona, Steponas Kairys
Abstract
The Great Seimas (Assembly) of Vilnius, held on December 4 and 5, 1905 (November 21–22, 1905 O.S.) in Vilnius, Lithuania, was inspired by the Russian Revolution, which had spread through the vast areas of the Russian Empire, including Lithuania. Around 2000 inhabitants of the future state took part in the congress. During the meetings, the participants held very intense discussions not only about the future Parliament of the Russian Empire, Duma, offered by the Tsar Nicholas II, but also about current situation of local self-government and an idea of general political autonomy of the country. 11 people out of 20 future signatories of the Act of Independence of Lithuania, which was signed in 1918, took part in this first assembly. Their contributions in preparation of the congress, as well as political and ideological connections of the two great events, are highlighted in the paper. One of the initiators of the Great Seimas of Vilnius, Jonas Basanavičius, had a valid experience of national cultural activities. Some other future signatories, like Antanas Smetona, Jonas Vileišis, and Steponas Kairys, took part in preparations of the congress, conducted its meetings or helped in stating of declarations. In ten years, these people became greatly important in both right and left wing political movements. Together with Donatas Malinauskas, Mykolas Biržiška, and Jonas Vileišis, they unified congenial members of Lithuanian community of Vilnius and realised the ideas, developed in 1905. The priests Kazimieras Steponas Šaulys, Vladas Mironas, and Alfonsas Petrulis, took care of spreading national Lithuanian ideas in their parishes. In autumn of 1905, Saliamonas Banaitis established the 1st Lithuanian printing house in Kaunas. He was publishing topicalities of Lithuanian religious, educative and journalistic matters. Stanislovas Narutavičius implemented the ideas of social rights in his native area. Later on, the persistence in defending their attitudes together with ability to cooperate had a great impact on the work of the Council of Lithuania in 1917–1918. By patiently revising and expanding the small rights, given to the country by then occupant German politics, the 20 members of the Council of Lithuania have turned the statements about autonomy, held at the Great Seimas of 1905, into the Act of Independence of Lithuania.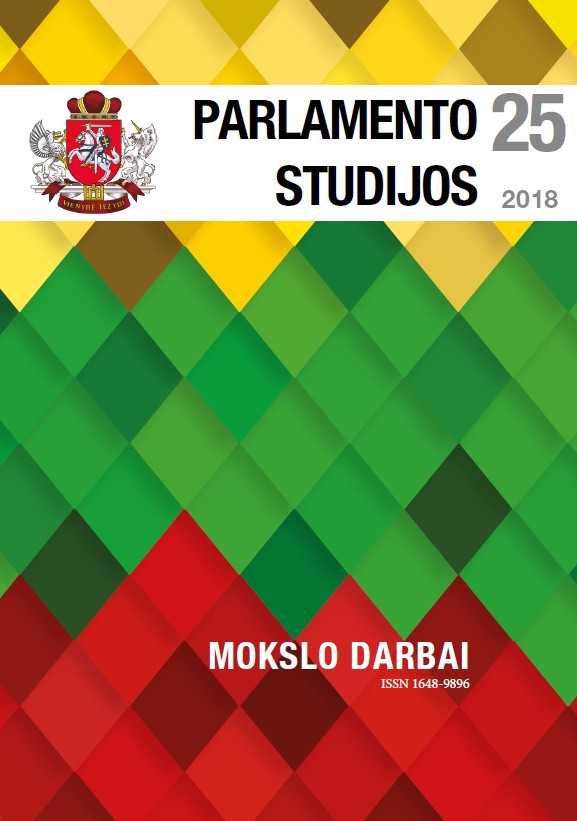 Downloads
How to Cite
Bukaitė, V. (2018). Būsimieji Lietuvos Nepriklau­somybės Akto signatarai Didžiajame Vilniaus Seime. Parliamentary Studies, (25), 11–36. https://doi.org/10.51740/ps.vi25.47