Lithuanian Army on the Eve of the Election of the Constituent Assembly (Seimas) and the Amendment of the Election Law
Keywords:
Lithuanian Army, Independence wars, Constituent Assembly (Seimas), uprising, rebellion, the right to vote, the election law
Abstract
The paper deals with the fragments of the establishment of the Lithuanian Army and its fights with the Bolsheviks and Bermontists. Also, it seeks to remind the society of the victims of these fights and perpetuation of their memory. The figures of the army at the start of the year 1920 are presented. In addition, the uprising of the soldiers of the Kaunas crew in February 22–24, 1920, so-called Panemune uprising or Soldiers' rebellion, is analyzed within the framework of the historical materials available. This event was of special significance to the army just at the stage of creation, to its image and the soldiers' motivation. The question who prepared the uprising and who benefitted from it is not answered so far. There are several versions, e. g., it was beneficial to the Poles, because destabilization of the situation could have resulted in no elections at all, consequently, Lithuania could not be recognized by other countries as a democratic state having received the right to the elections of the Constituent Seimas, and unsatisfied soldiers might have been very useful for the enemy. An unstable situation in the Lithuanian Army was also beneficial to the Bolsheviks and the Germans, for their efforts to unite forces in would-be wars. These countries were mostly interested in the fact that Lithuania should not be recognized as a country established on a democratic basis. By analyzing the military as well as the official press, the paper reveals the Army's attitude to the elections and the soldiers' participation, specifically, after the uprising. Short biographies of those 15 elected to the Seimas are presented by showing their contribution to the work of the Seimas and identifying the number of officers, soldiers and volunteers, as well as the Knights of the Vytis Cross.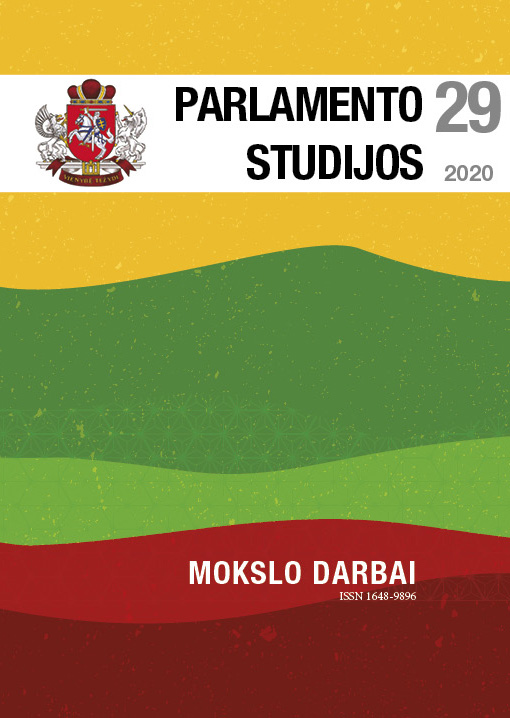 Downloads
How to Cite
Jurevičiūtė, A. (2020). Lithuanian Army on the Eve of the Election of the Constituent Assembly (Seimas) and the Amendment of the Election Law. Parliamentary Studies, (29), 46–81. https://doi.org/10.51740/ps.vi29.157