Information Needs and Sources of Members of the Lithuanian Seimas
Keywords:
information source, information needs, information provision, parliament, parliamentary library
Abstract
Parliament is one the most important political institution in democratic society. Members of the Parliament (MPs) are one of the most influential decision makers and actors of political process. Information and the quality of information provision influence the quality of politicians work, ability to solve problems in time and to make informed decisions. The purpose of the empirical research is to investigate information needs of Members of the Lithuanian Parliament and identify the most often used sources of information. The study investigates the use of parliamentary library and Seimas office services as well. It also reveals the problems faced by MP's during the process of information seeking and usage of information sources. The study was conducted with the help of a questionnaire. The study demostrates that MP's need different kind of information: political information, policy information and evaluative information. Most often MPs need information in the process of legislature and parliamentary control. Most often used sources of information is internet search engines. The study reveals high usage of media. Among others the most used information sources are personal advisers/assistans and parliamentary commitees. The study reveals that MPs more value and are satisfied with the information they get from internal information sources than external. The research demostrates that only few MPs are aware about usefulness of parliamentary library services. Most MPs don't use parliamentary library because they get required information from other sources or are not familiar with library's services.
Article Metrics Graph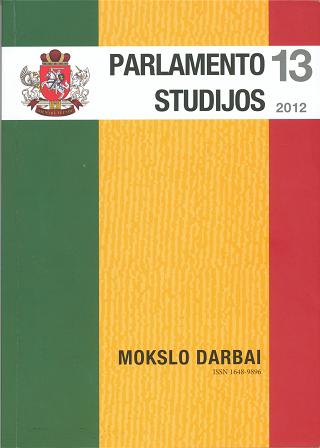 Downloads
How to Cite
Vernickaitė, A. (2012). Information Needs and Sources of Members of the Lithuanian Seimas. Parliamentary Studies, (13), 16–47. https://doi.org/10.51740/ps.vi13.265